Your browser is too old
We can't provide a great video experience on old browser
Update now
04:42
Intro to the 21-Day Meditation Challenge
Meet Light Watkins, your daily meditation guide for the next three weeks!
15:36
Day 1: Redefining Bliss
In this first class, you'll learn to examine "bliss" as more than just a buzzword, but rather a powerful state of presence accessible through practice
15:01
Day 2: Responding vs. Reacting
As humans, we're prone to overreact to negative circumstances.
17:14
Day 3: How to Access Flow
Today we get into the nitty-gritty of how to access the flow state.
18:41
Day 4: Lean Into Simplicity
Part of finding the flow state means leaning into simplicity rather than chasing after complexity.
15:50
Day 5: Understanding Self-Care
Many of us feel guilty for taking time for ourselves, but proper self-care is one of the best things we can do for our loved ones.
15:08
Day 6: Setting the Intention of Bliss
Allow the bliss state to direct you toward what is resonating most deeply in your heart, whatever that may be.
15:04
Day 7: Where is the Bliss?
"Where is the bliss?" you may wonder, "and how do I know I've tapped into it?"
15:46
Day 8: The Power of Rest
By allowing ourselves to welcome sleep, or rest, you'll become more familiar with the bliss state of mind.
15:02
Day 9: Examining Bliss and Energy
Here you'll start to learn how to use bliss as fuel, bringing the energy from your medititave state into everyday life.
15:01
Day 10: Finding the Flow State
Many of us have heard of the flow state in reference to sports, creative projects, or other activities that demand high levels of focus.
15:17
Day 11: Bliss and Gratitude
While life's ups and downs might feel disruptive, there is something we can learn from every hardship.
17:11
Day 12: Discovering Your Truth
Bliss is a mechanism for extracting our highest truth, or internal knowledge of what is right.
15:01
Day 13: Listening to Your Intent
Our intentions and thoughts can often change the course of our lives, for better and worse.
15:01
Day 14: The Power of Forgiveness
One of the most powerful benefits of accessing the bliss within is compassion.
15:03
Day 15: Trusting Your Experience
With consistent meditation, you may begin experiencing a more tangible and refined sense of what's right for you in this moment.
15:03
Day 16: Anatomy of a Commitment
One of the biggest challenges we face when we encounter a meditation practice is creating the time do it.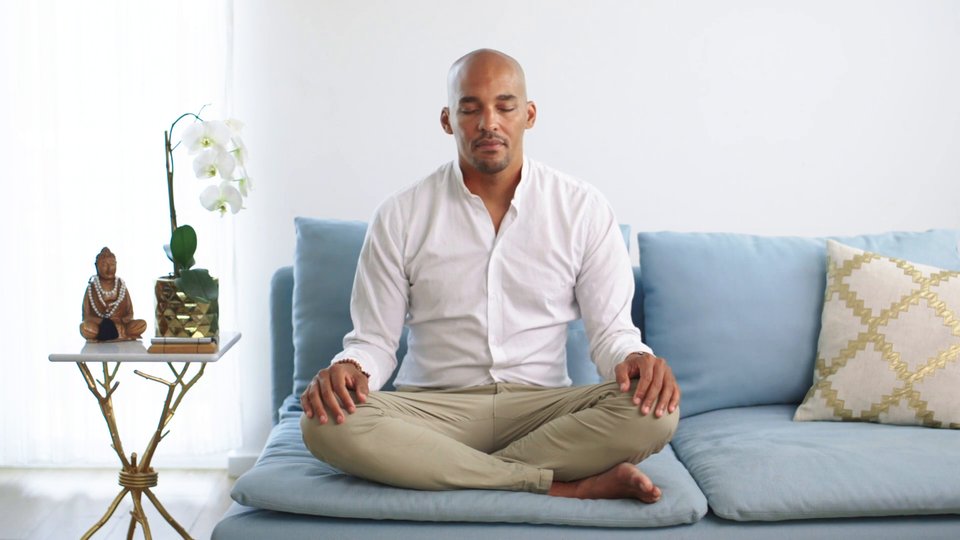 15:02
Day 17: No Right or Wrong
Meditation is a judgement-free zone.
15:01
Day 18: Transcending the Ego
Accessing the bliss within means aligning ego with spirit.
15:01
Day 19: Recognizing the Extended Self
As we have more experieneces with our inner nature, we evolve and refine our perceptual acuity to detect that same spirit within others.
15:01
Day 20: The Mechanics of Inner Happiness
By accessing the bliss within, we can more easily experience our inherent childlike innocence that we all once had.
16:08
Day 21: Releasing Your Bliss Into the World
We've now practiced an array of meditation tools you can come back to throughout the rest of your life.
Description:
Meet Light Watkins, your daily meditation guide for the next three weeks! Light started his journey with meditation in 1998 as a practitioner, then as an apprentice to his Vedic meditation instructor, and ultimately as a teacher himself. In this challenge, Light shares meditation techniques, best practices, and tips to help you establish an enjoyable, lifelong practice.
Led by longtime meditation teacher Light Watkins, the Wanderlust 21-Day Meditation Challenge is a powerful program to help you build and strengthen your personal meditation practice. Each day Light introduces a new theme, guides a brief meditation, and ends with practical takeaways to apply throughout your day.

Ask Light questions and connect with fellow meditators in t...